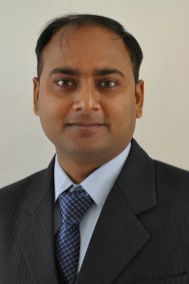 FELLOWS

Dr. Akhilesh Kumar
India
Agricultural science
Akhilesh Kumar is a plant biotechnologist conducting transgenic research. Awarded an Israel Government Scholarship 2010-2011, he joined the Volcani Center under the Ministry of Agricultural Research Organization (ARO) at Beit Dagan as a post-doctoral trainee. Currently he lives in Israel working for the Volcani Center. Born in Uttar Pradesh, India's largest state, Akhilesh completed his master's degree in the draught-ridden Bundelkhand, and received his doctorate in Kolkata West Bengal, well known for its rice cultivation.
Akhilesh is acutely aware of the challenges faced by the Indian agricultural system and how Israel can help to solve them. Akhilesh worked as a research associate at the Indian Agricultural Research Institute (IARI) in New Delhi and MASHAV Israel under the inter-organizational agreement for implementation of R&D Demonstration Farm Project. Aiming at becoming a successful agricultural scientist and facilitating the cooperation in agricultural business between Israel and India, he believes that his scientific background and the platform offered by the Israel-Asia Leaders Fellowship Program will better enable his interaction with frontier agricultural companies in Israel that will help him transfer state-of-the-art technology in the field back to his home country.
Akhilesh was the captain of his university cricket team and played in the state level cricket tournament during his doctoral studies. He also joined the National Cadet Corps and represented his home institution in debating competitions.