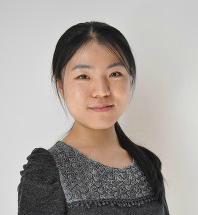 FELLOWS

Huiruo Li
China
International Relations & Hebrew Language
Efrat Huiruo Li, a student from China, is majoring in International Relations and Hebrew Language at Peking University, and will be participating in a one-year Hebrew language exchange program at the Hebrew University of Jerusalem. She has a keen interest in Israeli politics and Sino-Israel relations and would like to pursue a career in the diplomatic field.
To this aim, Efrat has been particularly active at Model United Nations conferences, both as an attendee and organizer. She was the first Chinese student to receive an honorable mention at the European International MUN and served as a director of the Asian International MUN and ICJ (International Court of Justice.) Recently, she interned for Weland Model United Nations where she instructed 85 students to participate in the Harvard MUN and NaiMUN (North American International MUN). Further to this, she was the vice-president of IMUSE (Initial Mutual Understanding through Student Exchange) which facilitated connection and dialogue between China and the U.S. This year, Efrat was a Chinese delegate to the Global Cross Disciplinary Tournament and in 2014 she will be a delegate to EPIIC, an academic program run by Tufts University in Boston which prepares young people to play an active role in their communities and a national and international level. There she will present a self-shot documentary movie focusing on eliminating the biased view of Middle Eastern countries.
In 2011, Efrat visited Israel in a delegation to commemorate the 20-year anniversary of diplomatic relations between Israel and China. She was invited as a student representative and met Prime Minister Binyamin Netanyahu. During her stay in Israel, she also volunteered to teach Chinese language and culture at Kiryat Ono public library. Efrat has initiated and organized a voluntary teaching program at three rural schools in Shandong province, China. In her spare time she is a distinguished calligrapher and has received several gold medals at international competitions for her skills.