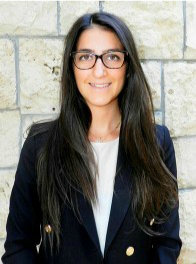 FELLOWS

Vanessa Gabbay
Israel
East Asian Studies
Vanessa Gabbay is enrolled on the master's in East Asian Studies at the Hebrew University of Jerusalem, having completed her bachelor's degree in International Relations and East Asian Studies. Vanessa is currently the program coordinator at the Jerusalem Press Club where she has organized several political panels and events. She recently coordinated the Jerusalem Seminar, a one-month program which dealt with the issues of covering conflict in an era of globalization and included panels on Israeli politics, Israeli entrepreneurship and innovation.
Prior to this, Vanessa guided tours of the Knesset to groups of diplomats, tourists and soldiers. During her time in the IDF, Vanessa was promoted to sergeant and managed the text and audio division in the intelligence unit. She continued her work with the army in France as project manager of UPI SAREL organization (which markets voluntary programs for the IDF) before spending a year teaching Hebrew at an ulpan in Paris.
Vanessa plans to organize a series of panels that will deal with some of the issues relating to Israel-Asia relations in the fields of business, academia and diplomacy. She would also like to coordinate a conference that will help Asian master's students to better understand the Middle East and Israel by taking a closer look at current developments in the region. Vanessa is fluent in Hebrew, English and French and after completing a summer study program at Jilin University in China, she is now proficient in Mandarin Chinese at HSK level 4.