Op Eds & Articles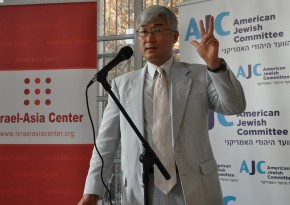 Q&A with: Ambassador of the Republic of Korea to Israel, Ma Young-Sam
By: The interview was conducted by the Israel-Asia Center's Yehonathan Tommer and translated by Daniel Berman.
November 1, 2010
Israel-Asia Center Q&A Series
H.E. Ma Young-Sam is Ambassador of the Republic of Korea to Israel.
Ambassador Young-Sam Ma also served as Counselor in the Korean Embassy in Tel Aviv between 2003 and 2006, and headed the newly-created General Delegation to Palestine, representing his country's interests with the Palestinian Authority in Ramallah.
__
Q: South Korea, like Israel, lives under a constant military threat to its survival. How do Koreans cope daily with the nuclear and military threat from North Korea?
We definitely are threatened from the North. Nonetheless, we believe that our daily lives should not be hampered by this kind of threat. On the one hand we do our best to defend our country against outside threats. On the other hand we want to lead normal lives as much as possible because this is the basis for our economic development.
Q: There have been periods in which North Korea has agreed to family reunions. Does this issue constitute a public pressure upon the government in Seoul to press for normalization and reunification with the north?
The first family reunions started in 1972. There have not been many such gatherings between families in the north and south because agreements with the North Koreans are difficult to reach. Since then they have taken place from time to time. (Family reunions) are a purely humanitarian matter on which a public consensus exists. We want to give families separated by the border a chance to meet with their loved ones in the north. These are very short meetings; they take place across both sides of the border in South Korea and in North Korea, at tourist sites where southerners can visit on tourist visas; as well as in neutral areas. Families are not allowed to go to their homes in North Korea. We want to give the very old among them the chance to see their families again before they die.
Such agreements are mediated by the Korean Red Cross in North and South Korea. Hundreds of people request permission to participate in these family reunions. But the numbers approved by the North Koreans are usually very limited, against our wish, to between 100 and 200 families.
Q: From your own scholarly analysis of the failures of US and international efforts over the years to dismantle North Korea's nuclear weapons program – what lessons can Israel, the US and the international community learn with respect dismantling Iran's nuclear program?
There has been no real progress in dealing with the threat from the North Korean nuclear program: either through direct channels between North Korea and the United States; or by the international community through the Six Party talks (North and South Korea, the U.S., China, Japan and Russia) from 2005. We also think that as the North Koreans come closer to attaining nuclear weapons, it will become more difficult for the international community to lever concessions from them. For sanctions to be workable and effective we need very solid international cooperation. This is essential, otherwise the North Koreans are going to exploit the loop holes.
China and Russia have not been helpful, have they?
They have their different policies. They think that dialogue and sanctions are more effectively workable than sanctions by themselves. That's why an adjustment is periodically always needed among the five countries (vis-a-vis the North Koreans).
Q: Are the Chinese and Russians similarly reluctant to agree to firm international economic sanctions to force Iran to dismantle its nuclear program?
China and Russia have a very big stake in Iran's oil and alternative energy resources development; while Russia also has a big stake in selling arms to Iran. They are both very concerned to protect those interests.
Q: Do you think that the chances of ending the North Korean nuclear threat are more attainable in the longer term than they are in dismantling the Iranian nuclear threat?
Yes, because China and Russia have the same interest in the denuclearization of Korean Peninsula. China was very upset by North Korea's provocations concerning their nuclear program. That's why they are part of the six party talks and make their own contributions.
Q: Let's move to bilateral ties: Israel is a world leader in scientific and industrial R&D and technological innovations; and Korea, in their integration and commercialization. How has the Korea- Israel Industrial R&D Foundation helped, since its creation in 2001, to combine these mutual advantages to the interests of both countries; and in what fields are bilateral ties being promoted?
Israel has developed a high degree of technological innovation in many fields: Information technologies as well as renewable energies, cellular phones and telephony; Korea has a bigger and better capability in their mass production and in the spread of their business network. Korean business has already moved toward creating such a partnership. Together, Samsung Electronics and LG Electronics have established three R&D centers in Israel, employing some 70 Israeli computer scientists, to develop technologies for products mass produced in Korea and marketed worldwide.
Q: How have direct flights between Seoul and Tel Aviv, since their inauguration in September 2008, boosted two-way tourism?
In 2008, about 30,000 Koreans visited Israel. Most of them were Christian pilgrims visiting the Holy sites. About 7,000 Israelis – mostly business people – visited Korea that same year. We have no statistics for 2009. Direct flights promote more exchanges between our two countries. There was a drop in the number of Korean tourists to Israel in 2008 and the beginning of 2009 because of the world financial crisis. But we expect the number of Korean pilgrims to Israel in 2010 to gradually pick up and exceed the figures for 2009.
We are now working on programs to attract more Israelis to Korea. Israelis like to travel all over the world. We also want to boost the number of weekly flights between Korea and Israel from three to four by offering cheaper air fares on Korean Airlines to young Israeli backpackers touring the world after their military service.
Q: The Chinese and the Indians frequently admire Jewish /Israeli ingenuity and entrepreneurship which they believe originates in their study of the ancient Jewish scriptures. Do Koreans share a similar belief?
Koreans display great interest in the creativity, imagination and achievements of the Jewish people in academia and the sciences, in technology, and in the number of Nobel Prizes they are awarded. The Jewish people, they say, are special. One of the reasons, they believe, is because their children are taught the Talmud (teachings of the Jewish sages) from an early age. Many families have a condensed volume of the Talmud translated into Korean in their homes, and mothers read and study it with their children.
Q: The South Korean Government has a number of cultural promotion projects in Israel in the pipeline. Could you tell us something about them?
This year's cultural fare comprises a film festival including an international prize-winning Korean film; a highly-rated children's troupe performing traditional Korean dance and song will visit Israel and a Korean cuisine week are also planned. In addition, we are organizing a students' conference in Israel on peace between the Koreas. This idea is actually modeled on a similar event on Israel-Palestinian peace held by the Israeli embassies in Latin America.


Back
Share this