Op Eds & Articles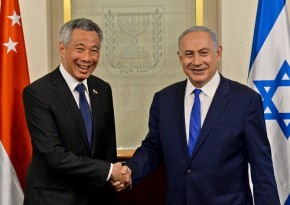 Israel Maintains Low-Key but Robust Ties With Singapore
By: Emanuel Shahaf
May 4, 2016
Israel Maintains Low-Key but Robust Ties With Singapore
In April 2016, during a visit to Jerusalem, Singaporean Prime Minister Lee Hsien Loong and Israeli Prime Minister Benjamin Netanyahu agreed to expand cyberdefense cooperation.
In an interview with World Politics Review, Israel-Asia Center board member, Emanuel Shahaf, discusses Israel's ties with Singapore.
Emanuel Shahaf is a member of the Israel-Asia Center's board of directors. He is CEO of Technology Asia Consulting and vice-chair of the Israel-Indonesia Chamber of Commerce.
Photo: Haim Zach / GPO

Back
Share this