Op Eds & Articles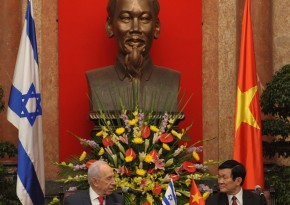 Vietnam: Wooing Asia's Newest Tiger
By: By Amiad Horowitz
February 1, 2012
Vietnam: Wooing Asia's Newest Tiger
In November of 2011, President Shimon Peres became Israel's first head of state to visit Vietnam. Leading a delegation of some of Israel's top businesspeople, the aim of the visit was to explore ways to develop economic ties between the two nations and to strengthen the existing relationship. Peres met with the top political figures in Vietnam including Vietnamese President Truong Tan Sang. These are the highest level meetings between Israel and Vietnam since Ben-Gurion met Ho Chi Minh, Vietnam's first President, at a hotel in France in 1948. It was a historic visit that has created opportunities that Israel cannot afford to miss.
When Israel was born at the beginning of the Cold War, Israel's first Prime Minister David Ben-Gurion believed that Israel needed to find a more powerful country to take on the role of Israel's big brother in this complicated game of international relations. At first that role was filled by France. In the late 1960's and early 1970's, the United States took over that role and it has stayed that way ever since.
Today the world is different. The world is no longer divided into two set camps. Former enemies are now friends and former friendships have disappeared. In Asia there are many developing countries that once relied on the USSR and are now looking for new friends. If Israel were to start looking to some of these countries, it would realize that it is now in the position to find new friends and to even play the role of the supportive and providing ally itself. The best example of this is the Socialist Republic of Vietnam.
Once a war-torn country, Vietnam today is one of the quickest developing nations in the world. With a population of 88 million that is quickly becoming richer, Vietnam offers a new and largely untapped market to enter. Vietnam's GDP has consistently grown at around 7% a year and shows no signs of slowing down. Further, the very fields that Vietnam is looking to develop are fields in which Israel is a world leader.
Today, Vietnam is the world's second largest exporter of rice and a large exporter of other agricultural products. However, they are using out of date technology and believe they can grow and become more efficient if their methods of agriculture were modernized. Israel, being one of the world leaders in agricultural technology is in the perfect position to help.
Vietnam is also looking to move to more green forms of energy. This is another field in which Israel is a world leader. Vietnam has a very large but out of date military. Israel is the world's fourth largest exporter of military technology and often the leader in modernizing old equipment at low costs – a perfect option for Vietnam's budget. These are just a few of the fields in which Israel is best positioned to help the development of Vietnam.
Of course this is not a one-way street. Vietnam has much to offer the Israeli economy as well. The once state-run economy is now an economic tiger booming with opportunity and potential. Many experts are saying that the reforms passed by the government in 2011, are the most important set of economic reforms since the 1986 decision known as Doi Moi, to move Vietnam towards a market economy. These new reforms include a decrease of government intervention in the economy, increasing private small businesses, banking reforms and making it easier for foreigners to invest in Vietnamese businesses. (Vietnam and Israel already have a deal that prevents Israelis working in Vietnam from having their salary taxed twice).
Vietnam is also quickly growing into one of the leading manufacturing nations in East Asia. Most people immediately think of China when talking about East Asian manufacturing power. Many of the factories once located in China have moved to Vietnam due to lower production costs. This is especially true in the textile industry. Today Vietnam's manufacturing power is quickly spreading to other fields such as, marine products, crude oil, electronics, wooden products and machinery.
Of course from economic ties comes the opportunity for political ties. Vietnam being one of the leading nations in the Association of South East Asian Nations (ASEAN) is in a position to help Israel find more allies and friends. ASEAN has 9 other members, all nations growing economically and gaining political clout.
A good relationship with Vietnam can lead to developing and improving ties with Vietnam's ASEAN allies. The growing importance of ASEAN seems to have gone un-noticed in Israel. In fact many of the member nations are on the rise and have developed considerable international influence. Indonesia -the world's largest and most moderate Muslim nation – has a booming economy and has become a regional power. The Philippines has an ever growing military alliance with the United States and is an ally in the war on terror.
ASEAN as an organization holds a lot of sway in the international arena and offers a number of opportunities to Israel. At a conference earlier this year in Hanoi, the US Secretary of State Hillary Clinton pledged US aid to protect the member nations should the region grow volatile. Also this year, ASEAN decided to develop a multi-nation quick response anti-terror military unit. Israel could help in both training and in technology.
During Peres' visit, President Sang lavished his guest with praise and admiration at the official ceremony welcoming the Israeli President in Hanoi. "This is an opportunity to open a new chapter in our relationship," said Sang, who made it clear that Vietnam is eager to deepen cooperation with Israel in the fields of technology, science, energy, security, communications, infrastructure, medicine and agriculture. "We look on Israel as a miracle," said Sang.
President Sang is not alone in these feelings. I know from my own travels and dealings in Vietnam that Israel is seen very positively in Vietnam. Many Vietnamese businessmen have told me that their country can learn a lot from Israel and that they believe that both our countries would benefit from closer ties. However, while President Peres' trip was a success, this is just a first step. Now is the time for both countries to invest thier efforts into building a strong, long lasting and mutually beneficial friendship.

Back
Share this